How can I turn my audio CDs into MP3 files?
CDs don't last forever and their lives are often very short when kids are involved! An easy way to back up your audio CDs at no cost is to "rip" the stories to MP3 tracks and keep backups of these files on a computer or hard drive. You can import the tracks right off of the CDs onto your computer using the free iTunes program and make your very own MP3 library. Here are the steps to take:
Before importing your CDs to your computer, clean your discs. Here are some helpful instructions for cleaning your CDs and removing light scratches
Download and install iTunes if you do not already have it installed
Start iTunes and go to Edit->Preferences
On the General tab click the Import Settings button
Set the settings to what you see below and click OK, then OK again on the remaining window.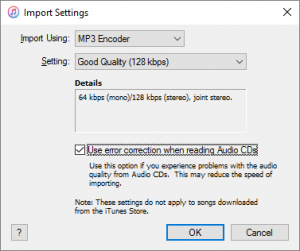 6. Now follow these easy directions to import your CDs into iTunes
Once your CDs have been imported to MP3 files, you can copy the files to any device you may own. If you have an Apple device, you can sync the files right in iTunes. If you have another brand of device, click here for more information on where your MP3 files are stored in iTunes. Now that you know where your files are, you can a make backup of them, copy them to your devices according the manufacturer's directions for that device and even create brand new audio CDs to replace your damaged ones.
Remember, copyright laws only allow these files to be used on devices that you own. But if you own 10 devices, feel free to put the files on all 10!
About Author